During the validation phase of your payment, you will be automatically redirected to the payment terminal by our bank, no banking information concerning you will pass through our servers.
At no time your card number will be known by us. Communication is encrypted and secured using SSL 3 (Secure Socket Layer) on the Internet protocol has it became a global standard.
With 3D Secure technology, a personal authentication will be required upon confirmation of your payment to ensure that this is you, and nobody else. According to the criteria of security of your bank, you will probably be asked a personal question: code sent via sms, date of birth, or other ...

If you would like more information regarding the protection of 3D Secure online payments, please refer to page our banking partner Security payment CIC


Payments by PayPal account: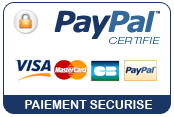 We also offer the opportunity to pay your order through Paypal. This method of payment available to all allow you to pay your order without having to enter your identification card or bank account. Payment is made via the email address associated with your Paypal account, the only information we will be transmitted.



We also accept payment by check only for the

accounts denominated in euros payable in France

, we are unable to accept checks from other countries.
For Payment by check, your order will be shipped after receiving it and checks if necessary.
If you have questions or concerns upon payment of your order, please contact us We will gladly answer your questions and learn best.